Get a great hybrid laptop for under £100 on Amazon Prime Day
If you're looking for a bargain laptop this Amazon Prime Day, this is the deal for you. The convertible iOTA One is down from £159.99 to £99.99 until midnight today – an amazing deal that you can't afford to miss.
The iOTA One has a detachable keyboard, making it easy to switch between laptop and tablet modes, and comes with Windows 10 so you're ready to start working and playing right away.
The mobile versions of Microsoft Word, Excel and Powerpoint are all included, so there's no need to pay for extra office software. All of these apps are specially designed for two-in-one devices, and Microsoft's Continuum technology means they work flawlessly in both laptop and tablet configurations.
The interior specs are impressive, with a 1.8GHZ Intel Atom processor, 2GB RAM, and 32GB storage for your apps and files.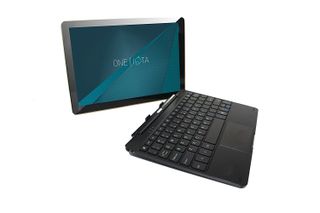 There's Wi-Fi and Bluetooth to keep you connected, plus Micro HDMI, USB 2.0 and Micro USB ports for monitors and accessories.
Read the full Amazon Prime Day article here